"Bravo! I loved the Thomas Paine film and Ian's superb performance as Paine. He metamorphosed into Paine--his physical character and intellect--beautifully and believably. He made his ideas and story come alive and be extremely relevant for today's audiences. It was a very powerful experience..."


Terry Sanders, Director, Producer, Writer and two-time Oscar winner

"Thank you for making an insiring, surprisingly contemporary film about a Founding Father. I am looking forward to this film launching many conversations about justice and democracy. I'm a new Thomas Paine fan!"


Lisa Leeman, Director, Producer of Awake: The Life of Yogananda, One Lucky Elephant, and Sundance award winner Metamorphosis

"It is a spectacular way to introduce people to the historical struggles and the ideas of the most important revolutionary thinker of the late eighteenth century. This inspiring play shows people how ideas can matter and that political courage is worthy of our admiration."


Elaine Bernard, Exective Director, Labor and Worklife Program, Harvard Law School

Click Here for Airings and
More Information About the Film

Host A Screening of Our Film

For Bookings Click Here

News Flash!
October 7th, 7:30 PM
To Being the World Over Again: the Life of Thomas Paine
at Faneuil Hall, Boston, MA
Tickets on eventbrite:
CLICK HERE TO BUY TICKETS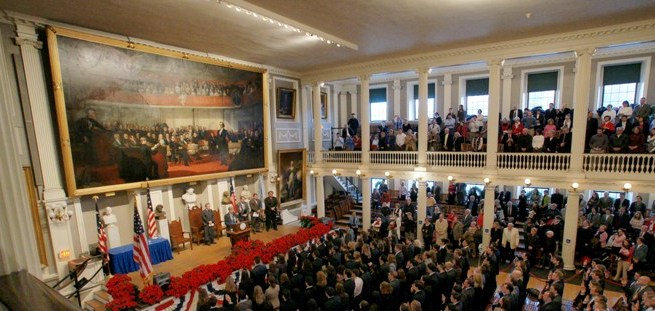 _________________________________________________
February 4th 2017
Ian Ruskin received the
National Society of the Daughters of the American Revolution
History Award Medal
___________________________________________________________
You can now rent or download the film!
On VIMEO – watch the trailer and the free Special Features and rent or download
and on Amazon – buy, rent or download
(DVDs are also available in The Shop on this site)
For a Limited Time, individuals who buy the DVD can order our Screening Kit free!
Add this option to your cart and share the film with your family and friends.
Here is what you get when you buy 1 DVD!: The Screening Kit
ABOUT THOMAS PAINE
Thomas Paine was the one truly radical Founding Father of America, a man who changed the face of the world with his pen. "Common Sense" inspired the American Revolution, "Rights of Man" defined the French Revolution, and "The Age of Reason" called on us to use our ability to reason as the basis for our beliefs and morality. He is a man largely forgotten and greatly misunderstood, yet ironically quoted by all and every political faction in the world today. Moreover his ideas about democracy, equality, slavery, pensions, healthcare, and education and morality would have created a very different kind of world if they had been acted on. The man who ignited revolutions would die largely ignored and disdained, yet when he was writing his books and pamphlets he was at the epicenter of world events, literally transforming nations through the power of his words. We are determined to write Paine back into the pages of our history and make sure that the true meaning of his work reaches as many people as possible. Thomas Paine's vision was a call to action. As he said "we have it in our power to begin the world over again."
Our Project uses a variety of digital and traditional media to bring Paine's world to the internet, the stage, and the screen. Please explore our site and sign up for the monthly Newsletter at the bottom of any page.
Join us in presenting Thomas Paine's story to the world!
Please consider making a donation to the project. All donations will be acknowledged on this site. Checks should be sent to the address below and made out to The Thomas Paine Society, our fiscal sponsor. This ensures that your donation is 100% tax-deductable.
THOMAS PAINE WEBSITE INTRODUCTORY VIDEO
See also: The Harry Bridges Project and The Tesla Project